Breaking Bad: Season 5
(2012-2013)
SEASON: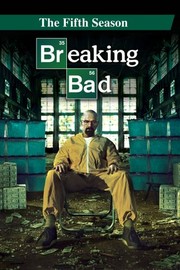 TOMATOMETER
AUDIENCE SCORE
Critic Consensus: Breaking Bad's final season cements its status as one of television's great series, propelling its narrative to an explosive conclusion with sharp direction and assured storytelling.
Episodes
Air date: Jul 15, 2012
Flash ahead to Walter's 52nd birthday: he's at a Denny's, disheveled, hair and beard unkempt, using a false name and a New Hampshire driver's license, paying a guy for a car with weapons in the trunk. Back to the immediate aftermath of Gus's death: Skyler is dazed at Walt's murderous success, Walt and Jesse make peace, and Hank visits the burned-out lab. Walt remembers the surveillance cameras Gus used at the lab, so they turn to an angry Mike for help. Can they get rid of the digital evidence in police custody? Is hubris going to trip up Walt?More
Air date: Jul 22, 2012
In Germany, the head of a multinational company's fast food division - which includes Gus' franchised chicken restaurants - commits suicide when the police come to question him. With Jesse fretting over what happened with the poison cigarette intended for Gus Fring, Walt plans an elaborate ruse to let him find it in his house. With that out of the way, they approach Mike to join them in starting up the business but he refuses.More
Air date: Jul 29, 2012
Walt, Jessie, and Mike's business starts back up. Walt finds an ingenious solution to the problem of where to set up the lab, Jesse makes a decision about his personal life, and Mike visits each of his crew to ensure that they stay mum, even with the feds pressuring them. Hank goes back to work. Skyler remains numb, and Marie badgers her about what's wrong. Walt is in for a surprise when Mike divides the money from the first cook.More
Air date: Aug 5, 2012
Walter, his confidence up, leases two muscle cars - one for himself and one for Junior. He's turning 51 and would like a party, Hank and his team visit Lydia in Houston, Jesse flies there to pick up the accelerant, Mike makes a decision that Jessie wants reversed, Hank is offered a promotion, Walter explains Skyler's behavior to Marie and Hank with references to Ted, and Skyler, coming slowly out of her funk, hatches a makeshift plan to protect her children.More
Air date: Aug 12, 2012
A boy on a motorbike finds a large tarantula in the desert. Walter pays a visit to Hank in the new office; Walt's intentions are not entirely above board. The team's search for methylamine continues, with Michael and Lydia at odds, and Jesse wanting to obtain the chemical without resorting to murder. They hatch an elaborate plan involving buried tanks, a train trestle, and a stalled truck. The children remain with Hank and Marie to Junior's increasing anger and frustration. Skyler lays more of her cards on the table. What price success?More
Air date: Aug 19, 2012
With blood on their hands, the Walter, Jesse, and Mike partnership must first decide what to do about Todd. After that's settled, Walter is ready to cook again, but Jesse and Mike have another idea. Skyler spends some time with her daughter and with Marie, and Walter's invitation that Jesse stay for dinner adds to Skyler's misery. Hank and his team put nearly round-the-clock surveillance on Mike, and a meth producer in Phoenix has a plan.More
Air date: Aug 26, 2012
In the desert, Walter meets with the Phoenix crystal meth distributors to set up a new partnership. Mike's out, Jesse wants out, Skyler's checked out, and Hank's boss wants him to stop spending time and resources on pursuing Mike. Walt needs to get the bug out of Hank's office, and Hank may have one more play.More
Air date: Sep 2, 2012
After disposing of Mike's body, Walt sets out to eliminate anyone who can tie him to the Fring investigation. And as a new global partnership makes them richer than ever, Skyler wonders how much money is enough.More
Air date: Sep 9, 2013
As Walt and Jesse adjust to life out of the business, Hank grapples with a troubling lead.More
Show More Episodes
Breaking Bad: Season 5 Trailers & Photos
Tv Season Info
Informed he has terminal cancer, an underachieving chemistry genius turned high school teacher uses his expertise to secretly provide for his family by producing the world's highest quality crystal meth.
Genre:
Drama
Network:
AMC
Premiere Date:
Jul 15, 2012
Creator:

Vince Gilligan

Executive Producers:

Vince Gilligan

,

Michelle Maxwell MacLaren

,

Mark Johnson

Producers:

Vince Gilligan

,

Karen Moore

,

Michelle Maxwell MacLaren

,

Peter Gould

,

George mastras

,

Moira Walley-Beckett

,

Melissa Bernstein

,

Stewart A. Lyons

,

Tom Schnauz

,

Diane Mercer
News & Interviews for Breaking Bad: Season 5
Friend Ratings for Breaking Bad: Season 5
No Friends? Inconceivable! Log in to see what your friends have to say.
Login
Audience Reviews for Breaking Bad: Season 5
Discussion Forum
Discuss Breaking Bad on our TV talk forum!