Marvel's Daredevil: Season 1
(2015)
SEASON: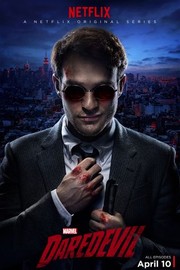 TOMATOMETER
AUDIENCE SCORE
Critic Consensus: With tight adherence to its source material's history, high production quality, and a no-nonsense dramatic flair, Daredevil excels as an effective superhero origin story, a gritty procedural, and an exciting action adventure.
Episodes
Air date: Apr 10, 2015
Murdock's vigilante crime fighting and his new law practice find equally dangerous challenges in a murder case tied to a corporate crime syndicate. --(C) NetflixMore
Air date: Apr 10, 2015
Murdock and Foggy take on a mysterious wealthy client, but Murdock is convinced that there's more to the chase than just the facts. --(C) NetfixMore
Air date: Apr 10, 2015
Two brutal Russian brothers working for Fisk target Daredevil. Elsewhere, Fisk makes a power play to rise in the criminal underworld.More
Air date: Apr 10, 2015
Fisk moves forward with plans that threaten to rip Hell's Kitchen apart. Murdock and Foggy take on a case helping tenants victimized by a slumlord. --(C) NetflixMore
Air date: Apr 10, 2015
While Murdock, Foggy and Karen's mission becomes clearer, Fisk's world spins further out of control in this battle for Hell's Kitchen. --(C) NetflixMore
Air date: Apr 10, 2015
When Fisk gains the upper hand, the goal to destroy him becomes even more difficult, while Daredevil faces his own demons. --(C) NetflixMore
Air date: Apr 10, 2015
Murdock and Foggy's relationship is put to the ultimate test while a new enemy against Fisk emerges. --(C) NetflixMore
Show More Episodes
Marvel's Daredevil: Season 1 Trailers & Photos
Tv Season Info
"Marvel's Daredevil" is a live action series that follows the journey of attorney Matt Murdock, who in a tragic accident was blinded as a boy but imbued with extraordinary senses. Murdock sets up practice in his old neighborhood of Hell's Kitchen, New York where he now fights against injustice as a respected lawyer by day and masked vigilante at night. --(C) Netflix
News & Interviews for Marvel's Daredevil: Season 1
Friend Ratings for Marvel's Daredevil: Season 1
No Friends? Inconceivable! Log in to see what your friends have to say.
Login
Audience Reviews for Marvel's Daredevil: Season 1
With time comes experience, and with that experience, Marvel has taken a bunch of barely watchable movies about superheroes, and turned themselves into a global empire. When Marvel first started making movies, they never dreamed they'd be getting the stars, exposure, or the nearly half a billion dollar box office receipts for every film they release. Perhaps the most overlooked element in Marvel's wave of success is the writers and directors, which is really what has led to the big stars, better films, and ultimately the TV series.

Marvel attempted to introduce Daredevil in 2003, in what amounted to one of the worst superhero movies I've ever seen. The plot was nonexistent, they rushed the characters backstory, and the acting was a joke. They learned from theses mistakes however, and reinvented the character in the Netflix series by the same name.

Matt Murdock (Charlie Cox) was blinded in an accident when he was a child, but despite losing his sight, he gained other abilities. His other senses became super strong and he was trained to use them to help defend himself. As a youth, despite his training, Murdock decided to fight injustice in the courts and became a lawyer, eventually starting a firm with him best friend, Foggy Nelson (Elden Henson). Being a lawyer didn't always get Murdock the justice he sought, so he started using his training, and going out at night to fight crime as the devil of Hell's Kitchen, eventually dubbed by the press as Daredevil.

On the surface, people will look at this series and see another superhero show, but when you sit down to watch it, you will realize that the writing makes all the difference. This is one of those shows where the superhero element is an after thought, because everything else is so realistic and believable, that aside from the fight scenes, you forget that you're watching a Marvel superhero show. The criminals developed for this show, Wilson Fisk (Vincent D'Onofrio) and The Punisher (Jon Benthal) are as good, if not better, than any villain ever seen in any of the Marvel franchises. Beyond that the show has a lot of legal and courtroom elements to it, a medical angel, family and romance issues, I don't say this often, but this show actually does have a little bit of something thrown in there for absolutely everyone!

Even if you're not into superheroes, even if you can't stand them, there will be at least one element to the Daredevil series that you will enjoy, I guarantee it. As for the fans, I know it's been a while, but no need to fret, Daredevil have been renewed for a third season, and lead actor Charlie Cox has signed on for the eventual collaboration series, that will include all four Netflix-Marvel characters.
Daredevil is brought into the Marvel Cinematic Universe as an original Netflix series. Season 1 follows blind lawyer Matt Murdock as he moonlights as a masked vigilante combating the criminal gangs in Hell's Kitchen, which he traces back to a secret crime boss named Wilson Fisk; meanwhile Fisk works with his partners to control and rebuild the Hell's Kitchen district. Charlie Cox and Vincent D'Onofrio both deliver excellent performances that make their characters extraordinarily compelling. And, the writers do a good job at developing the characters and plot slowly over multiple episodes. Also, the show does some nice tie-ins with the Avenger films by addressing the effects of the Battle of New York. Incredibly well-made, Season 1 of Daredevil is an impressive and bold crime drama.
½
I like dark and gritty. And dark and gritty on Daredevil is definitely the way to go if you want to make a more grounded superhero series. It's a complex enough character with very cool side-kicks, plenty of gangsters and masked dudes to kick his ass very often. This isn't your typical hero. He kicks some major ass but he gets his ass served more times than you can count too. That makes us root for this guy, who's really trying to make the city he lives in a better place but where he's also one step too close to become what he's trying to fight.

Then we have a character with the same motivations but doing things on a very different scale and level. I'm obviously talking about the Kingpin, which is played rather well by Vincent D'Onofrio. Instead of being a loudmouth like he's usually portrayed, in here he's just a very shy and socially awkward guy, with an immense rage inside that obviously explodes very often. A bit of a cliché but works for the most part.

The main draw on the show is that the writing is not that great. There's plenty of cringy dialogue and clichéd phrases running amok to truly immerse us on this show, but it's still better than your usual stuff. Some episodes are needlessly too long and sometimes take too much time to develop. Storylines and characters show up for very few episodes (Rosario Dawson, are you even a main character as advertised?), leaving us a bit dry in the end, which is a bit worrying since we're having other super-hero shows coming up next on Netflix, that will converge alongside Daredevil into the Defenders and we still don't have a confirmation for S02 for Daredevil itself, turning all of it into a mess.
Francisco Godinho
Super Reviewer
Discussion Forum
Discuss Marvel's Daredevil on our TV talk forum!