Marvel's The Defenders: Season 1
(2017)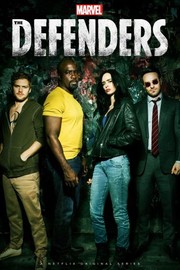 TOMATOMETER
AUDIENCE SCORE
Critic Consensus: Marvel's The Defenders further develops well-known characters in an action-packed arc whose payoff packs more than enough of a punch to offset its flaws.
Episodes
Air date: Aug 18, 2017
In the series premiere, Matt Murdock, Jessica Jones, Luke Cage and Danny Rand independently face off against crooks and crime, all unknowing a group encounter is looming.More
Air date: Aug 18, 2017
Matt struggles to change his ways while a new scheme develops. Jessica finds herself biting off more than she can chew. Luke follows a clue. Danny faces an opponent just as capable as he is.More
Air date: Aug 18, 2017
Elektra's secrets are exposed. Danny adjusts his strategy. Jessica receives legal help from Matt, while Luke sets out on a hunt for the White Hat.More
Air date: Aug 18, 2017
A Defender group dinner attracts some uninvited guests who are far from amicable.More
Air date: Aug 18, 2017
Elektra's honesty is doubted, and Colleen has a confrontation with someone from her past. Luke shows his endurance.More
Air date: Aug 18, 2017
Stick offers up a theory, Danny finds himself sidelined, and Alexandra learns that it's not easy being the leader.More
Air date: Aug 18, 2017
Matt, Jessica and Luke embark on a desperate search. Colleen and Claire debate heroism. Elektra tries to recruit an all-important ally.More
Air date: Aug 18, 2017
As New York edges closer to disaster, Elektra sees what's beyond the wall, and the Defenders make a last-ditch effort to save the city.More
Marvel's The Defenders: Season 1 Trailers & Photos
Tv Season Info
Daredevil, Jessica Jones, Iron Fist and Luke Cage team up to protect New York City.
News & Interviews for Marvel's The Defenders: Season 1
Friend Ratings for Marvel's The Defenders: Season 1
No Friends? Inconceivable! Log in to see what your friends have to say.
Login
Audience Reviews for Marvel's The Defenders: Season 1
½
The team-up show that everyone has been waiting the past few years for has finally arrived. Daredevil has been a show that is universally cherished for the most part, and most people seem to feel the same way about Luke Cage and Jessica Jones, but Iron Fist being the lead-up to this team-up was quite the letdown. Myself included, everyone deserved to be nervous for this new series, due to the fact that the hype was starting to die off, but that's precisely why I think I loved it so much. If you're someone who's been worried about this being a disappointment, I think you'll be pleasantly surprised. The Defenders may just be the best show that Marvel has released on Netflix for multiple reasons, and here's why.

Unlike the shows that preceded it, The Defenders is a breezy eight episodes, rather than the 13 that we've grown accustomed to. This definitely worked in its favour, making for far less extended stretches of dialogue and a much quicker pace. Picking up pretty soon after the conclusion of each one of these characters final episodes, as soon as a conspiracy is started in New York, Matthew Murdoch, Luke Cage, Jessica Jones, and Danny Rand all find themselves pursuing the same clan. The Hand is a clan from the show Daredevil, and you'll find many of the plot elements from each of the respective shows flowing over. The show is solid throughout its first couple of episodes, but once the team finally begins to converse and work together, it became pure gold.

We've seen Luke Cage and Jessica Jones interact throughout their respective shows, but Danny Rand and Matt Murdoch have been pretty much on their own until now. The second they all share the screen together, you'll be sold from the start. From emotional ties, to comedy, to pure awesome action, this team is well worth your time. They are all so different and eventually grow on each other, making for a emotionally satisfying conclusion to the first season. To be quite honest, just like I felt at the end of the first Avengers film, I just wish they would continue working as a team instead of going back to their own shows, because it just works so much better this way.

While I don't look back on this first season and remember any glaring issues, it's not without its cliches and tropes that the Marvel brand has been known for lately. Sigourney Weaver began as a very solid villain and I was looking forward to seeing her arc grow, but she's not quite utilized enough to really make herself memorable in this universe, but that might just be me. As far as the climax goes, it's wonderfully constructed and a blast to watch, but the continuity is thrown out the window and there are quite a few clerical errors made that I just couldn't ignore. Aside from those gripes, this is a very well-constructed first season, showcasing loveable characters (yes, even in Danny Rand this time around).

In the end, this first season of The Defenders feels more like an elongated film, culminating the events of everything that has come before it. There are emotionally motivational moments, empowering and well-choreographed fight sequences, along with some extremely well-written episodes, and pacing that will have you clicking onto the next episode at a very rapid rate. This season can be watched in one sitting, easily. If you have enjoyed any of these characters in their shows and have made it through the franchise thus far, then I think this series will blow your socks off in terms of entertainment in comparison. It suffers from a few classic Marvel tropes, but that's not much of a complaint. The first season of The Defenders is fantastic from start to finish.
½
Charlie Cox as Daredevil and Krysten Reinner as Jessica Jones definitely shine, and Sigournea Weiver does her best out of a mediocre villan, but the chesmitry between the leads, although pleasent, is not coherent enough to sustain a weak narrative too focused on its flawed elements too be the epic team-up that has been promised when the far superior Daredevil and Jessica Joned shows came along.
John Ross Dela Pena
Super Reviewer
Discussion Forum
Discuss Marvel's The Defenders on our TV talk forum!