Masters of Sex: Season 1
(2013)
SEASON: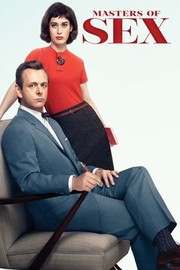 TOMATOMETER
AUDIENCE SCORE
Critic Consensus: Seductive and nuanced, Masters of Sex features smart performances, deft direction, and impeccable period decor.
Episodes
Air date: Sep 29, 2013
Stylish, smart and provocative new US drama, set in the 1950s, chronicling the relationship between the couple who risked everything and gave birth to the sexual revolution while struggling with their own issues of success, betrayal and jealousy. Masters of Sex stars Michael Sheen and Lizzy Caplan as the real-life pioneers of the science of human sexuality, Dr William Masters and Virginia Johnson. The series documents their unusual lives, romance and journey to pop-culture prominence, a process that saw them go from a Midwestern teaching hospital to the cover of Time magazine and TV host Johnny Carson's couch. The series is an adaptation of Thomas Maier's book, Masters of Sex: The Life and Times of William Masters and Virginia Johnson, the Couple Who Taught America How to Love. In the first episode, William Masters, a doctor in the field of obstetrics and gynaecology at Washington University in St Louis, runs a successful medical practice by day and conducts a secret study of human sexuality by night. Former nightclub singer Virginia Johnson is recruited to join the secretarial staff at the hospital and soon proves to be a valuable asset to Masters' work.More
Air date: Oct 6, 2013
On the heels of Masters' proposal that they participate in the sexual response study, Johnson considers the best course of action to keep her job, only to find she no longer has one. The study has been forced out of the hospital and Masters believes Johnson is to blame. As Johnson fights to save her job and struggles to care for her children, Masters moves his study to a brothel, but he finds the place chaotic and unmanageable without Johnson's help.More
Air date: Oct 13, 2013
Masters and Johnson continue their research at the brothel, but skewed data confirms that Masters must get the study back into the hospital. Johnson is surprised to learn that a distinguished new doctor in the obstetrics and gynaecology department of the hospital is a woman who has no interest in female solidarity. Libby struggles to conceive, while Dr Ethan Haas gets the case of a lifetime.More
Air date: Oct 20, 2013
With the study back in the hospital, Masters and Johnson recruit new participants on campus. However, Johnson is shocked when her ex-husband George, who's crashing on her couch, wants to sign up. Meanwhile Masters' mother comes to visit but her new take on life stirs up painful memories of his childhood. Libby attempts to play matchmaker with Virginia and Ethan.More
Air date: Oct 27, 2013
When Masters and Johnson expand their study to include couples, they discover that the science of sex is easily complicated by the mystery of attraction. Johnson tries to connect with her son, who prefers to spend time with his dad. Haas learns that his romantic life could impact on his career as a doctor. In anticipation of his baby's arrival, Masters experiences anxiety about becoming a father.More
Air date: Nov 3, 2013
Following Libby's miscarriage, she and Masters travel to Miami for some much needed rest and relaxation, but Masters is drawn back into his work by the sexually adventurous couple next door. Back at the hospital, Virginia enlists Jane in an effort to debunk Freud's theory that one kind of female orgasm is better than another. Langham finds an unlikely cure for his sexual dysfunction.More
Air date: Nov 10, 2013
Masters and Johnson continue their sexual response study, but now they are participants. While Johnson fears that their work may be interfering with Masters' home life, Libby pressures Dr Haas to resume her fertility treatment in secret. Haas struggles to let go of his feelings for Virginia as his relationship with Vivian deepens. Margaret Scully confronts her husband about the increasing problems in their marriage.More
Air date: Nov 17, 2013
Masters and Johnson decide the best way to record their findings is to film them, but to do so they have to enlist outside help. Meanwhile, Johnson redoubles her efforts to get a college degree; Scully takes drastic steps to control his sexual impulses; and Haas and Langham convince each other of the merits of being a married man.More
Air date: Nov 24, 2013
Masters and Johnson decide to film external reactions in the study, and must convince Lester and Jane that their footage won't cross the line into pornography. Meanwhile, Haas reveals he is Jewish; Libby keeps her pregnancy a secret from Masters; and Estabrooks observes Masters and Johnson's intimate relationship.More
Air date: Dec 1, 2013
While hospital staff are preoccupied by a nuclear disaster drill, the pregnancy of a participant in the sexual response study drives a wedge between Masters and Johnson. Margaret Scully learns the truth about her husband, and Ethan Haas finds out that his days at the hospital may be numbered.More
Show More Episodes
Masters of Sex: Season 1 Trailers & Photos
Tv Season Info
The lives of sex researchers William Masters and Virginia Johnson are depicted in this critically acclaimed drama. Season 1 begins with Masters (Michael Sheen), a successful gynecologist at Washington University in St Louis, conducting a secret study of human sexuality. Soon, he meets Virginia Johnson (Lizzy Caplan), a former nightclub singer who is now part of the hospital secretarial staff. He enlists her help with his study, and she quickly proves to be an asset to Masters's work. Together, they delve deeper than anyone before them into the science of sex and later become participants in their own research, which takes an unforeseen toll on Masters's married life. … More
News & Interviews for Masters of Sex: Season 1
Friend Ratings for Masters of Sex: Season 1
No Friends? Inconceivable! Log in to see what your friends have to say.
Login
Audience Reviews for Masters of Sex: Season 1
Marc-André Beaucage
Super Reviewer
Discussion Forum
Discuss Masters of Sex on our TV talk forum!