Nashville: Season 1
(2012-2013)
SEASON: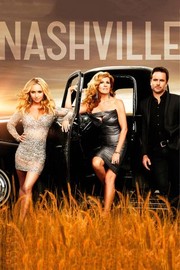 TOMATOMETER
AUDIENCE SCORE
Critic Consensus: Nashville promotes catchy pop-western tunes and plays to non-fans of the genre with its sharp atmosphere and its stellar narratives.
Episodes
Air date: Oct 10, 2012
The critically acclaimed US drama set in the cut-throat world of country music, created by Callie Khouri, the Oscar-winning writer of Thelma & Louise, comes on Channel 4. Country music legend Rayna Jaymes is struggling to maintain her place in the spotlight. Her fans are ageing, her latest album isn't selling well and neither are tickets for her current tour. To make matters worse, ambitious young rising star Juliette Barnes is hot on her heels and vying for centre stage. When Rayna's producers ask her to support Juliette on tour, she's determined to refuse and a power struggle ensues. Each woman has her own agenda, with Juliette plotting to poach Deacon Claybourne, Rayna's long-time band leader, and Rayna seeking to recruit gifted songwriter Scarlett O'Connor to help revive her success. Life is made more complicated for Rayna when her father, ruthless industrialist and political mover Lamar Wyatt, backs her underachieving husband Teddy Conrad in the race to become Mayor of Nashville.More
Air date: Oct 17, 2012
As Teddy's mayoral campaign progresses, Rayna must endure an investigation and face the possibility that family secrets may be revealed. Despite her best efforts, Juliette sees Deacon continue to perform with Rayna and is irked by the obvious chemistry between them. Coleman is disappointed by Lamar's disloyalty and gets ready to play a tough political game. Scarlett feels a sense of conflict between following her dream of songwriting with Gunnar and giving her full commitment to her relationship with Avery.More
Air date: Oct 24, 2012
Rayna and Teddy are sobered to learn that they are facing financial ruin, but Rayna won't consider borrowing money from her father or going on tour with Juliette. Jolene, Juliette's troubled mother, re-enters her daughter's life in dramatic fashion, but initially Juliette doesn't want anything to do with her. Scarlett and Gunnar's big break is threatened when Scarlett struggles to give a good vocal performance in the recording studio. Juliette pressures Deacon for a definitive answer about whether he will go on tour with her.More
Air date: Oct 31, 2012
Gunnar and Scarlett are thrilled to get a music publishing deal, and while Scarlett's relationship with Avery is still under strain, Gunnar soon makes a romantic connection of his own. Juliette tries to improve her tarnished image by giving an interview on Good Morning America, but her performance only makes matters worse. Rayna agrees to sing at Teddy's campaign fundraiser at the country club, but when Deacon turns up late for the performance it leads to an argument. Peggy, a former colleague from Teddy's past who is harbouring a secret, unexpectedly appears at the fundraiser.More
Air date: Nov 7, 2012
Now that Deacon and Rayna are no longer collaborating musically, they both try to move on from their relationship. Rayna reluctantly makes a TV commercial, but Deacon objects to the use of their lyrics in the project. Heading for the first big debate of the mayoral campaign, Teddy faces the possible exposure of his past financial problems and involvement with Peggy. Juliette struggles to cope with her mother's addictions, until Deacon persuades Jolene to seek treatment, and faces difficult memories of his own. And tension between Avery and Gunnar reaches boiling point after a musical performance with Scarlett to impress a record producer.More
Air date: Nov 14, 2012
In an effort to bring her music up to date, Rayna seeks the help of rock star and producer Liam McGuinnis, but she has to work hard to convince him to come on board. Juliette goes on a 'fake date' with squeaky-clean sportsman Sean Butler as a PR stunt to improve her tarnished image. However, she is surprised to find that Sean is less of a goody two-shoes than he appears. When Teddy and Coleman commit to appearing at an important photo opportunity, Lamar plots to make Coleman late by having him pulled over by the police, but his plan works a little too well. Scarlett's relationship with Avery grows rocky when he is pursued by manager Marilyn Rhodes.More
Air date: Nov 28, 2012
Marshall Evans continues to put pressure on Rayna and Juliette to collaborate together at an event, while Scarlett and Gunnar find themselves growing closer. Meanwhile, as Peggy's desperation hits its peak, Teddy reveals the truth to Rayna.More
Air date: Dec 5, 2012
Rayna has to decide what's really important to her after hearing Teddy's side of the story about Peggy. Juliette finds an unexpected sense of belonging with Sean's family, and Gunnar and Scarlett's partnership becomes more intense.More
Air date: Jan 9, 2013
When Rayna suggests taking her daughters on tour with her and Juliette, Lamar threatens to expose a family secret. Not everyone is happy about Juliette and Sean's elopement. Avery alienates Scarlett when he follows a producer's advice to dump his band. And Deacon meets up with his old flame, music journalist Carmen.More
Air date: Jan 16, 2013
Rayna and Juliette get ready to perform the first concert of their arena tour in San Diego. Finding it difficult to work without Deacon, Rayna makes an interesting proposal to Liam. Juliette sends Sean a message about their marriage through the media, but he disagrees with her view of the situation. When Gunnar travels to Texas to visit his older brother Jason, Scarlett tags along to catch Deacon performing with the Revel Kings, but her presence sparks an ugly scene between Deacon and Cy. Against Marilyn's wishes, Avery makes his move to sign with Dominic, while Teddy and Coleman's campaigns finally reach their conclusion.More
Show More Episodes
Nashville: Season 1 Trailers & Photos
Tv Season Info
In the first series of this drama, country-music legend Rayna Jaymes (Connie Britton) fights to stay in the spotlight as her most recent album fails to make an impact. Her fiercest competition is a rising star on the Nashville scene: pop-country singer Juliette Barnes (Hayden Panettiere). Each singer detests the other, and this difficult situation intensifies when music executives try to push the two of them together to widen their exposure and boost sales. Meanwhile, Rayna's marriage begins to suffer when her estranged father (Powers Boothe) persuades her husband, Teddy Conrad (Eric Close), to run for mayor of Nashville. Further complicating her marriage is Rayna's close relationship with guitarist Deacon Claybourne (Charles Esten), as well as the arrival of a woman from Teddy's past (Kimberly Williams-Paisley). Things aren't any easier for Juliette, who has her hands full as she attempts to clean up her bad-girl image and deal with her drug-addicted mother (Sylvia Jefferies). … More
News & Interviews for Nashville: Season 1
Friend Ratings for Nashville: Season 1
No Friends? Inconceivable! Log in to see what your friends have to say.
Login
Audience Reviews for Nashville: Season 1
There are no featured audience reviews yet. Click the link below to see what others say about Nashville: Season 1!
Discussion Forum
Discuss Nashville on our TV talk forum!