Sneaky Pete: Season 1
(2017)
SEASON: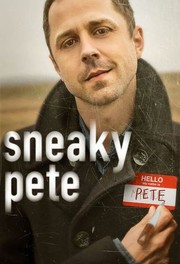 TOMATOMETER
AUDIENCE SCORE
Critic Consensus: Suspenseful, smart, and terrifically cast, Sneaky Pete is part dramedy, part crime caper, and all in all entertaining.
Episodes
Air date: Jan 12, 2017
As business flags, tensions rise between Pete's grandparents, Otto and Audrey. Marius proposes a risky play to help Julia manage a dangerous client, but when they encounter problems, the "cousins" must rely on Audrey's expertise. While evading a mysterious pursuer, Marius visits former partners Katie and Karolina in NYC and remembers how three years ago, he made a powerful enemy of Vince. -- (C) AMAZONMore
Air date: Jan 12, 2017
Marius' exacting parole officer insists that he come into the city for a mandatory appointment. To get there on time, Marius must fend off Pete's curious cousins Julia, Taylor, and Carly, an increasingly suspicious Audrey, and a terrifying ambush. Meanwhile, Eddie becomes desperate in captivity, Vince's lieutenant Winslow hunts for Marius, and a reluctant Katie helps Marius cover his tracks. -- (C) AMAZONMore
Air date: Jan 12, 2017
Lured by the promise of a big payday in the bail bonds office's safe, Marius tries to work the angles with Pete's family. However, he finds it more difficult than he expected to manipulate Taylor, who harbors both a vicious temper and a dangerous secret of his own. Back in the city, Vince struggles with a difficult client at the poker table and takes his frustrations out on his crew. -- (C) AMAZONMore
Air date: Jan 12, 2017
Audrey and Otto argue over Audrey's unilateral decisions, the fallout from which may cost them their business. In the process of helping Otto investigate one of his nagging suspicions, Marius makes a major discovery about Audrey's finances. Meanwhile, Carly quizzes her mysterious cousin about his past, Julia rekindles her relationship with her ex Lance, and Vince has a new job for Eddie. -- (C) AMAZONMore
Air date: Jan 12, 2017
When a dangerous client's case goes to court, Bernhardt Bail Bonds struggles to recover the money he put up as collateral. Fearing retaliation if they can't come up with the money, Otto visits old friends on the local reservation, and Marius recruits younger talent to help. An outside source leads Carly to unearth a major secret about Pete, and Julia must decide whether she can trust Lance again. -- (C) AMAZONMore
Air date: Jan 12, 2017
As they struggle to save the family business, Audrey strategizes with Marius, while Otto insists on doing things his way. Confronted by Carly's discoveries, Marius pays visits to both his old mentor and his former cellmate to backstop his identity as Pete. Taylor gathers evidence about the incident that left him suspended from the force, and Winslow follows Marius' trail to Katie and her family. -- (C) AMAZONMore
Air date: Jan 12, 2017
After discovering that Audrey risked BBB's future on a fraudulent investment, Marius convinces her, a reluctant Julia, and a team of his old compatriots to con back the money from the person who ripped her off. Unbeknownst to Audrey and Marius, Otto unilaterally enacts a perilous plan to save the business. Meanwhile, Katie and Brendon hold a NYC detective bound and gagged in their basement. -- (C) AMAZONMore
Air date: Jan 12, 2017
When Otto's solo plan ends with a dead man on the floor of the bail bonds office, Otto, Marius, and Lance are left at the mercy of BBB's dangerous client Dockery, who wants his collateral money back- and no more excuses. Marius finds himself in the hands of two unlikely saviors. Meanwhile, Vince comes up with a new plan to catch a cheater at his table, and Taylor shoulders new responsibilities. -- (C) AMAZONMore
Air date: Jan 12, 2017
With all of the pieces in place, Marius sits down at Vince's poker table to make his final moves. Everything is going according to plan, until Vince becomes suspicious that he's seen this play before. When Audrey finds herself at the scene of a bloody crime, she must go against her instincts and trust her family to help her manage the situation. Julia embarks on a dangerous quest to save Lance. -- (C) AMAZONMore
Sneaky Pete: Season 1 Trailers & Photos
Tv Season Info
Season 1 sees convicted con man Marius (Giovanni Ribisi) released from prison and assuming the identity of his cellmate, Pete, to hide from debtors. One of those debtors is played by Bryan Cranston, who also created this involving crime drama that originally was slated for airing on CBS, but the network declined. Once back on the street, Marius soon meets Pete's estranged and eccentric family and lands a job with his faux-clan's bail-bond business. Among the season highlights: Marius foresees a big payday locked in the office safe, but it means working some angles with Pete's family, including the not-so-easily-manipulated Taylor (Shane McRae); Pete's grandmother Audrey (Margo Martindale) must come up with a strategy to save the family firm when it runs the risk of going belly-up. In the season finale, Marius pulls up a chair at a poker table with a scheme to settle his debts. … More
News & Interviews for Sneaky Pete: Season 1
Friend Ratings for Sneaky Pete: Season 1
No Friends? Inconceivable! Log in to see what your friends have to say.
Login
Audience Reviews for Sneaky Pete: Season 1
There are no featured audience reviews yet. Click the link below to see what others say about Sneaky Pete: Season 1!
Discussion Forum
Discuss Sneaky Pete on our TV talk forum!