Supernatural: Season 13
(2017-2018)
SEASON: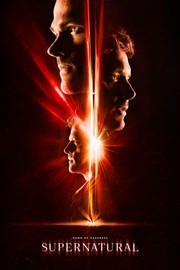 Episodes
Air date: Oct 12, 2017
Season 13 begins with Sam and Dean picking up the pieces after the loss of their mother, the demise of Crowley and the heartbreaking death of Castiel. Meanwhile, the birth of Jack leaves the brothers with differing opinions on how to deal with a Nephilim; and Mary, after being dragged into the breach, must learn to survive Lucifer and an apocalyptic world.More
Air date: Oct 19, 2017
Sam and Dean begin to explore what Jack is capable of doing with his powers, but an unexpected visit from Donatello alerts the boys to the fact that Jack will need more protection than the Winchesters can provide. Meanwhile, there is a new Prince of Hell in town, Asmodeus, and with Lucifer out of the picture he sets his sights set on Jack.More
Air date: Oct 26, 2017
Missouri's friend is murdered by a wraith with a taste for psychics, so she enlists the help of Dean and Jody to protect her granddaughter, Patience, who has no idea she shares her grandmother's trait and could be next on the wraith's hit list. Meanwhile, Sam continues to work with Jack on learning how to control his powers.More
Air date: Nov 2, 2017
When multiple patients of grief counselor Mia Vallens turn up dead, Sam, Dean and Jack investigate the mystery surrounding the murders and, each inadvertently, are forced to deal with unresolved grief of their own.More
Air date: Nov 9, 2017
Sam and Dean investigate a case involving the ghost of a demented doctor and get assistance from Billie. Meanwhile, Castiel finds his way back to the Winchesters.More
Air date: Nov 23, 2017
Sam and Dean encounter a familiar foe when they continue their search for Jack, with Asmodeus hot on their trail. Meanwhile, Lucifer escapes Michael's grasp and finds himself an unlikely and mostly willing ally.More
Air date: Nov 30, 2017
Sam and Dean agree to steal a mysterious trunk belonging to a demon named Barthamus in exchange for a locater spell the Winchesters can use to track down Jack.More
Air date: Dec 7, 2017
Jack, desperate to prove to Sam and Dean that he is good and that he can control his powers, enlists the help of a dreamcatcher named Kaia to help him find Mary Winchester and save her from the alternate universe. However, when plans go awry, the Winchester brothers are the ones who need saving.More
Air date: Jan 18, 2018
When Sam and Dean go missing, Jody Mills calls Claire Novak, the rebellious rogue hunter, and tells her it is time to come home-they need to find the Winchesters. Claire returns and reunites with Alex Jones, who has stayed behind with Jody and tries to balance a "normal" life with being a part time hunter. While Jody is happy to have Claire home again, she's plagued by Patience's disturbing vision involving her adopted daughter.More
Show More Episodes
Supernatural: Season 13 Trailers & Photos
Tv Season Info
Twenty-six years ago, Sam and Dean Winchester lost their mother to a mysterious and demonic supernatural force. Subsequently, their father raised them to be soldiers. He taught them about the paranormal evil that lives in the dark corners and on the back roads of America ... and he taught them how to kill it. This haunting series follows the Winchester brothers as they crisscross the lonely and mysterious back roads of the country in their '67 Chevy Impala, hunting down every evil supernatural force they encounter along the way. … More
News & Interviews for Supernatural: Season 13
Friend Ratings for Supernatural: Season 13
No Friends? Inconceivable! Log in to see what your friends have to say.
Login
Audience Reviews for Supernatural: Season 13
There are no featured audience reviews yet. Click the link below to see what others say about Supernatural: Season 13!
Discussion Forum
Discuss Supernatural on our TV talk forum!