The Knick: Season 2
(2015)
SEASON: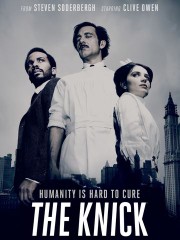 TOMATOMETER
AUDIENCE SCORE
Critic Consensus: The Knick delivers an addictive second season with stunning visuals, knockout performances, and disturbing moments adding up to a period drama that's anything but dated.
Episodes
Air date: Oct 16, 2015
In the Season 2 premiere, the hospital readies for its move uptown, while Dr. Edwards makes a play to be named permanent chief of surgery and Dr. Gallinger heads over to Cromartie Hospital in hopes of getting Dr. Thackery to come back to work. Also, Bertie rebuffs Lucy's attempt to make amends; Ping Wu demands his prostitutes be given regular medical checkups; Speight tracks a new plague; and Cornelia ministers to a quarantined San Francisco neighborhood.More
Air date: Oct 23, 2015
Dr. Thackery makes a move to return to The Knick, which the board frowns upon; Cornelia gets Cleary to do a dirty job, but it comes with a cost; Robertson makes a push for a new subway initiative; Barrow drives up construction costs; and Lucy receives a surprise visitor from home.More
Air date: Oct 30, 2015
Edwards helps Thackery test a new hypothesis; a young journalist works a story on a Thackery rival; Cornelia laments the limits of her husband's sympathies; Barrow deals with a new adversary at Tammany Hall; Gallinger takes interest in a discussion of eugenics at a class reunion.More
Air date: Nov 6, 2015
Thackery's syphilis treatment is put to the test, while Harriet has her day in court.More
Air date: Nov 13, 2015
A subway explosion sends a flood of patients to the Knick; while being pursued by Henry, Lucy heeds advice from one of Ping Wu's girls. Later, a troubled addict makes an ideal test case for Thackery's theory on addiction; Bertie submits his adrenalin findings to Zinberg; Cornelia uncovers a clue about Speight's death; Barrow pays off a debt; Genevieve charms the Chickerings; and Harriet becomes a boardinghouse pariah.More
Air date: Nov 20, 2015
Bertie is faced with a quandary at Mt. Sinai, which leads to him take matters into his own hands and enlist help from Algernon; Thackery considers using hypnosis, while taking an interest in conjoined twins. Later, Lucy lobbies Henry for an invite to a gala; Cornelia visits the brother of a deceased immigrant who had ties to Speight; Gallinger has an unwelcome dinner guest; Barrow checks out a new home for Junia; and Harriet agrees to make some changes.More
Air date: Nov 27, 2015
Thackery tries to steady his nerves as he prepares to separate conjoined twins before a packed audience, while Cornelia receives a surprise gift from her father-in-law and attends a charity ball for the new Knick. Later, Barrow rids himself of a threat; Opal puts a damper on the Robertsons' good mood; Algernon receives long-overdue recognition in the surgical theater, but complications arise.More
Air date: Dec 4, 2015
Thackery attempts a new cure in the inebriation ward; Brockhurst demands his "girls" be returned; Gallinger and his wife's relationship and Bertie's relationship with Genevieve go off in surprising directions. Later, Cornelia shows evidence of the company's wrongdoing to Henry; Barrow's marriage troubles come to a head; and Thackery performs plastic surgery on Abby.More
Air date: Dec 11, 2015
Thackery and Capt. Robertson's connection and how the doctor arrived at the Knick, are revealed; the problems between Edwards and Gallinger come to a head after a medical-board hearing about Gallinger's vasectomies. Later, Cleary and Harriet engage in a joint business venture; Lucy shares memories with her father; Barrow realizes the rising costs of living well; and Cornelia and Henry face a family crisis.More
Air date: Dec 18, 2015
In the Season 2 finale, Thackery ignores Zinberg's advice at Mt. Sinai and undertakes a risky, alternative course of action; Cornelia confronts Henry about the family business; Barrow's actions at the hospital construction site are called into question; Gallinger ponders a job opportunity; and Cleary steadfastly refuses to give up on Harriet.More
The Knick: Season 2 Trailers & Photos
Tv Season Info
Season 2 of the medical drama, set in the 1900s, that charts the exploits of the staff and patients at Knickerbocker Hospital in New York City, kicks off with the facility readying for a move uptown. While Dr. Edwards (Andre Holland) makes a play to be named permanent chief of surgery, Dr. Gallinger (Eric Johnson) heads over to Cromartie Hospital in hopes of getting Dr. Thackery (Clive Owen) to come back to the Knick. However, Thackery's move to return is not exactly greeted with open arms by the board. In one of the more explosive plotlines, a subway blast sends a flood of patients to the Knick, while in the operating room, Thackery attempts to separate conjoined twins and later performs plastic surgery on Abby (Jennifer Ferrin). He also tries out a new cure in the inebriation ward, dabbles in hypnosis, pioneers a new treatment for syphilis and contemplates a new theory on addiction. … More
News & Interviews for The Knick: Season 2
Friend Ratings for The Knick: Season 2
No Friends? Inconceivable! Log in to see what your friends have to say.
Login
Audience Reviews for The Knick: Season 2
Discussion Forum
Discuss The Knick on our TV talk forum!